Bedford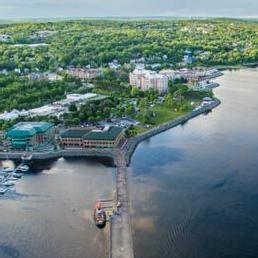 Bedford is located at the northern end of the Halifax Harbor, surrounding the Bedford Basin. It borders both the City of Halifax and the City of Dartmouth.

Bedford had been a small outlying town until 30 years ago. Since then, Bedford has grown into a self sufficient urban center. Due to its strong sense of community, Bedford has always been a popular place to live. It is considered a safe, family oriented community with strong community groups who take pride in their neighborhoods. Beautiful waterfront parks. .
 
Several of the most significant new subdivisions are currently being built in Bedford. 
 
Bedford has an array of shopping, dining, and entertainment choices. Because Bedford is self sufficient, there is no need to travel outside the community unless you choose to; and being the geographical center of HRM, it is only minutes away from other major areas in metro.
 
Shopping:
 
Most of the Shopping alternatives can be found along the Bedford Highway. There are several malls to choose from and many small businesses and specialty boutiques. The main alternatives are:
 
The Sunnyside Mall and The Bedford Place mall:

​​Located across the street from each other, there are well over 100 shops to choose from. 

Sobey's plaza: Larry Utech:

Outdoor retail center with grocery, pharmacy, restaurants, fast food, fuel, banking, daycare, fitness center, etc. Everything you need for daily living and it continues to grow. 

Sobey's plaza: Millcove

Outdoor retail center with grocery, pharmacy, restaurants, fast food, gas, banking, etc. Everything you need for daily living and it.

Bayers Lake Retail Park:

Large retail sector containing many large box stores, family restaurants, entertainment, cinemas, building supplies, etc. Although not technically in Bedford, it is only a 10 minute drive a major shopping destination for those living there.​
Housing Styles
All housing types can be found in Bedford. Some areas are densely populated, while others offer large lots with executive homes. There are some older areas of Bedford, but many areas have been built within the last 10 years.
Bedford West:
The newest and largest development in Nova Scotian history. Has consistantly been the fastest growing area in and around Halifax for 8 years. A wide variety of residences from elegant contemporary single family homes, Large Arts and Crafts style single family homes, luxury Condominiums, Semi detached, townhomes. Quaint Condominium townhome communities, seniors complexes, and apartments can be found here. Often large lots, well treed, built-in walking trails, close to lakes with some waterfront lots. Very family friendly and safe neighborhood.
Ravines/Royal Hemlocks/Bedford South:
Newer subdivisions offering upscale single family homes, luxury apartment condominiums, and Executive townhomes, Located beside Hemlock Ravine Park - metros largest old growth forest. Very conveniently located on the Halifax side of the Bedford basin. Lots of amenities.
Crestview:
A more affordable area of Bedford with typically smaller homes built on small lots.  Higher density than other areas of Bedford. Some Upscale condominium and apartments as well. Located in the heart of Bedford.
Paper mill Lake:
An upscale neighborhood adjacent to Crestview.
Offers an Elegant array of housing types. Many lake front homes available as well. Often larger lots.
Basinview:
Around 40 years old, this subdivision is often more affordable than other areas of Bedford. The homes tend to be a little older, but are usually well maintained. Some newer homes have been built in the past 10 years. All styles of houses and condominiums are available here.
Nottingham
: A 15 year old subdivision featuring a wide variety of housing types. Nottingham was built on the side of a steep slope, so many homes offer great views of the Bedford Basin with sloping back yards.
Shore Drive:
One of the oldest areas in Bedford, it is also one of the most desirable. Many waterfront homes are available along the Bedford Basin. Homes in this area vary greatly in age. This is a result of large estate lots being subdivided into smaller lots. New homes are often built on these subdivided lots. The most recent homes being built a mere 2 years ago. Almost All the homes are large and the lots vary in size. Stunningly picturesque.
Eaglewood:
A rare find in metro. Building in this subdivision began around 1985 and it is one of the few areas in metro that is zoned residential only. You won't find any apartments or condominiums in here. The lots tend to be fairly large (some over ½ an acre), and the homes tend to be large. Unlike most other subdivision in Metro.
Ridgevale:
Started about 30 years ago, this subdivision is also zoned residential only and is located next to Eaglewood. The lots and homes tend to be smaller than there neighbor, but it still offers that suburban charm while remaining inside the urban core.
Oakmount:
This subdivision is around 40 years old, and is a fairly affordable area of Bedford. The housing types vary and the lots tend to be larger than their newer counterparts in Bedford.
Housing Prices:
Ravines/Royal Hemlocks:
     Ranging from $ 300,000 to $ 1,500,000
Crestview:                                 
Ranging from $ 250,000 to $ 450,000
Paper Mill Lake:                       
Ranging from $ 250,000 to $ 1,000,000 +
Basinview:                                 
Ranging from $ 200,000 to $ 500,000
Nottingham:                              
Ranging from $ 300,000 to $ 450,000
Shore Drive:                               
Ranging from $ 500,000 to $5,000,000 +
Eaglewood:                                
Ranging from $ 375,000 to $ 1,000,000 +
Ridgevale:                                  
Ranging from $ 375,000 to $ 600,000
Oakmount:                                 
Ranging from $ 225,000 to $ 350,000
Commuting Times/Distances:
To get from most parts of Bedford to the downtown core will take on average between 20 and 30 minutes. The traffic on the Bedford highway has become more congested over the last several years due to the amount of residential building. This trend will likely continue for the next several years. There is an alternate route via highway # 102 and the HRM is currently planning alternate routes into the city core. Metro transit is available from all areas of Bedford.
Schools:
Please follow the following link to discover which schools service specific addresses. Simply enter a civic address and receive both french and english stream schools for that address and the corresponding feeder schools from grades primary to high school.
Press 
"Home address lookup"
once on the school board site.
https://www.hrsb.ca/about-our-schools/school-finder
Advanced Search
The range between minimum price and maximum price is incorrect. Please submit the correct range.