Cole Harbour / Forest Hills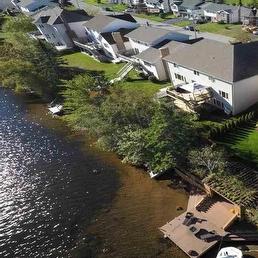 Cole Harbour covers a large area of Dartmouth and has seen some of the largest development in metro over the last 40 years.
 
The dominant factor in its growth has been and still is affordability. Although there are several subdivisions in the area that are somewhat expensive, the majority of houses in the area are priced between $ 225,000 and $300,000.
 
Cole harbour is located on the eastern boundary of Dartmouth and is about a 20-40 minute drive to downtown. The drive time is dependant upon the amount of traffic approaching and on the bridges to Halifax. During rush hours there can be some congestion, but the traffic does move steadily most of the time.
 
There are some wonderful shopping, entertainment and dining alternatives in both the Cole Harbour area and within 5-10 minute drive. Some of the best shopping in metro is located in Dartmouth.
 
There is a great variety of house styles and prices to choose from and there is definitely a house to fit everybody's needs and price range in the area.
 
Shopping:
 
There are many shopping choices within minutes of Cole Harbour area:
 
Portland Street-Cole Harbour Rd. shopping District:

​This Street runs for about 5 km. and offers everything from grocery, dining, auto sales, Hardware, banking etc. Just about anything you need can be found in an array of outdoor shopping centers.​ 
Mic Mac Mall:​

​The largest shopping center in Atlantic Canada features several chain retailers and around 300 shops There are several box retailers on the grounds as well including a Chapters and Future Shop.  
Burnside business Park:

​The largest business/industrial/retail park in Atlantic Canada. A huge assortment of shopping alternatives await he buyer.
Dartmouth Crossing:

​This is Dartmouth's newest retail shopping area and has proven to be metros largest and most appealing as well. This area was conceived as an all inclusive shopping district much like Bayer's Lake Retail Park in Halifax. The difference being that this venture was planned, developed, and sold as one concept. Everything was built at one time. It will include many large box retailers such as Home Depot, Canadian Tire, Costco, Kent building supplies, Ikea, Empire 12 Theatre (12 theaters ), Hilton Hotels, dining alternatives, and many small beautifully designed brownstone retail malls. 
Housing Types
 
There is a wide variety of housing options in the area including the following:
 
 
Forest Hills: A large subdivision featuring hundreds of 25-40 year old semi-detached, split entry, bungalows, and a smaller selection of interspersed two story homes.  This is a great neighborhood for first time home buyers and families with children. There are a couple of inexpensive condominium buildings located on the corner of Forest Hills Drive and the Cole Harbour Road.
 
Colby Village: An area of more distinctive homes. Colby Village was constructed around 25 years ago and was continually developed until 3-4 years ago. Homes are attractive and tend to be larger than its neighbor Forest Hills. Like Clayton Park and Clayton Park West in Halifax, and The Ravines in Bedford, Colby Village was developed by a company owned by Shaw Brick. This meant that every house built had to have brick on the front, making these subdivisions very attractive. Home styles range from executive split entries, to large bungalows, to medium to executive sized two storey homes. There are several older areas in Colby Village which feature smaller homes that are more affordable but they are not always easy to find.
 
 
Housing Prices:
 
Forest Hills                           Ranging from $ 120,000 to $ 400,000
Colby Village                        Ranging from $ 250,000 to $ 600,000
 
Commuting Times and Distances:
 
The commuting time to Downtown Halifax from either Forest Hills or Colby Village is around 20-25 minutes during off peak hours and from 30-45 minutes during rush hour or inclement weather.

Schools:

Please follow the link below to discover which schools service specific addresses. Simply enter a civic address and receive both French and English school streams for that address along with the corresponding feeder schools from grade primary to grade 12.

Press

"Home Address Lookup"

once on the School Board site.

https://www.hrsb.ca/about-our-schools/school-finder

Search Cole Harbour listings by MAP
---
Advanced Search
The range between minimum price and maximum price is incorrect. Please submit the correct range.