Purcell's Cove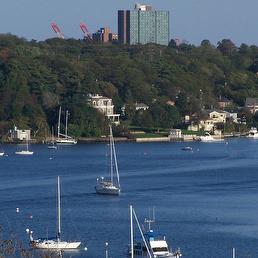 Click Here: Search Purcell's Cove listings by
MAP

The Purcell's Cove Road is considered by many to be one of the real estate treasures in Halifax. Typically an upscale market, there are many homes located on the water and many others located in quaint subdivisions. There are also subdivisions built during the late 1960's and early 1970's that are more affordable.
 
The Purcell's Cove Road begins just past the Armdale Rotary, off the Herring Cove Road. It follows the North West Arm, an extension of the Halifax Harbor that separates the peninsula from the mainland. The drive is very scenic, with several yacht clubs, historic forts, and breathtaking ocean views. The area offers various parks and recreation areas as well. The road terminates in the quaint fishing village of Purcell's Cove.
 
The commute to the downtown core from most subdivisions is no more than 15 to 20 minutes.
 
There are many shopping facilities within a short drive and there is public transport available through Metro Transit.
 
Shopping:
 
Although there are grocery, drug, and retail stores in the nearby community of Spryfield, most residents of the Purcell's Cove Road shop at one of two locations.
 
Bayer's Lake Retail Park:​

This park is one of Metro's primary shopping, entertainment,   and dining destinations. Large open air shopping malls and large stand alone chain stores abound. 17 stadium style theatres are located here along with an IMAX, a dozen family style restaurants, Chapters, Outlet stores, etc. 
The Halifax Shopping Center​

The second largest shopping centre in metro, along with its annex across the street, will satisfy most of your shopping needs.
Housing Types:
 
Housing on the Purcell's Cove Road varies greatly. Everything from traditional two stories, bungalows, town homes, high rise Apartment Condominiums, 175 year old Victorian and Georgian Homes, and new contemporary homes. Most of the homes are situated along the Purcell's Cove Road; however there are several subdivisions along the way. The road has a very pricey water side, with the road remaining between 100-1000 feet from the water at all times. The inland side of the road can be much more affordable; however, there are still some high priced subdivisions.

Homes Along the Northwest Arm: Although not a subdivision per se, it is worth mentioning these homes separately. Many Stately estates with pre confederation, owned water lots (land actually extending into the water - these type of deeds haven't been granted for over 150 years), Often new, expansive mansions overlooking yacht clubs, Point Pleasant Park, and beautiful estates on the opposite shore. Very beautiful!!!
 
Regatta Point: This is the first subdivision you encounter as you enter the Purcell's Cove Road. It is exclusively High end Town homes, High rise Condominiums, and Executive Townhouse Condominiums. The units are between 15-20 years old. It is situated on the North West Arm (considered by many to be the most picturesque part of Halifax) and many of the properties back on the water. There is a wonderful Yacht Club (Armdale Yacht Club) next door.
 
Jollymore: This is an area of homes typically ranging from 30 to 50 years of age. There is a hodgepodge of styles, but it is exclusively single family homes. Lots can be large with very mature, well maintained landscaping, but many of the large lots have been subdivided and sold. This has created some uniquely shaped lots. The Dingle Park is located on the water in this subdivision. Ideal for picnics, walking, or simply sitting watching the pleasure craft go by while enjoying your favorite book.
 
Inverness: An area of 30-50 year old homes. It is much more affordable than many other subdivisions in the area and the lots tend to generous. The home styles are all single family detached bungalows, split entries, or 2 storeys.
 
Pine Bluff: An upscale subdivision featuring large 2 storey homes. The lots are not generally large, but most are immaculately landscaped. There is access to a public lake within a few minutes walk (Williams lake). The houses are roughly 15-20 years old.

Boulderwood: Older subdivision with some homes backing in the dingle park. Featuring a hodgepodge of styles with many homes updated or renovated over the past 20 years. close to walking trails and parks.

Ravens Craig: Newer subdivision featuring Craftsman style Semi detached and single family homes. Nice lots but many shared driveways. Home styles are Unique for this area and very popular.

Housing Prices:

Properties along the Northwest Arm:    Ranging from $1,000,000 to $ 3,000,000+
Regatta Point                                         Ranging from $ 300,000 to $ 900,000
Jollymore                                               Ranging from $ 400,000 to $ 700,000
Inverness                                               Ranging from $ 300,000 to $ 500,000
Pine Bluff                                               Ranging from $ 400,000 to $ 700,000
Boulderwood                                         Ranging from $ 350,000 to 600,000+
 Ravenscraig                                         Ranging from 400,000 to $ 700,000
 
Commuting Times/Distance:
 
Depending upon where you live on the Purcell's Cove Road, the travel time to Downtown Halifax will take between 15-25 minutes.

Schools:

Please follow the link below to discover which schools service specific addresses. Simply enter a civic address and receive both French and English school streems for that address along with the corresponding feeder schools from grade primary to grade 12.

Press "Home Address Lookup" once on the School Board site.

https://www.hrsb.ca/about-our-schools/school-finder

Search Purcell's Cove By MAP
---
Advanced Search
The range between minimum price and maximum price is incorrect. Please submit the correct range.